Parents and Guardians of the Class of 2022, You or your student will soon receive an email with a flyer from "Prestige Photography by Lifetouch" that will allow you to make your appointment on July 1s t for your student's yearbook portrait. Please note, to avoid a $10 sitting fee, you must enter a promotional code on their scheduler site. We believe our promotional code is: TQPD, but please review your card to be sure! Please note: To appear in the senior section of the 2022 yearbook, you must have your portrait taken by Prestige Photography by Lifetouch! For more specific instructions, please look for your personalized appointment setting card in an email from "Prestige Photography by Lifetouch." Please see the examples attached: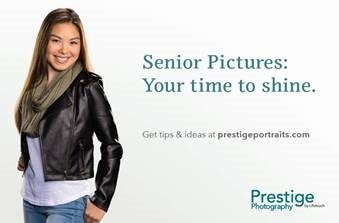 Columbia High School will be offering an opportunity to participate in virtual summer school. We strongly encourage any student who failed a course this year to make up the class or classes they failed during the summer session. If your child does not attend summer school, they will be rescheduled for the course they failed next year, which may delay their progress towards a timely graduation. We will be reaching out to families of students that would benefit from summer school early the week of June 7th. If you do not hear from us and feel that your child would benefit from summer school please call the main office at 717-684-7500. To enroll in summer school, you and your child must attend a mandatory summer school meeting on June 11th at 10:00 AM. Students will be given a computer, materials, and information on how to proceed in the class at this time. If you are unable to attend in person you can join us on Zoom at the link below. You will still need to arrange a time to come in and receive your materials in person to begin the course.
https://columbiabsd.zoom.us/j/82103414741?pwd=K1YxSzdqUExmNGFvRzdHMCs4OFAxdz09
Thank you and have a great summer!
Columbia High School's 149th Annual Commencement for the Class of 2021 will be held Friday, June 4th in the auditorium at 7:00 PM. Admission is by ticket only. Doors open at 6:30. The event will be livestreamed on the district's YouTube Channel "CBSDMedia" at the following link.
https://youtu.be/BPlhU56ytrQ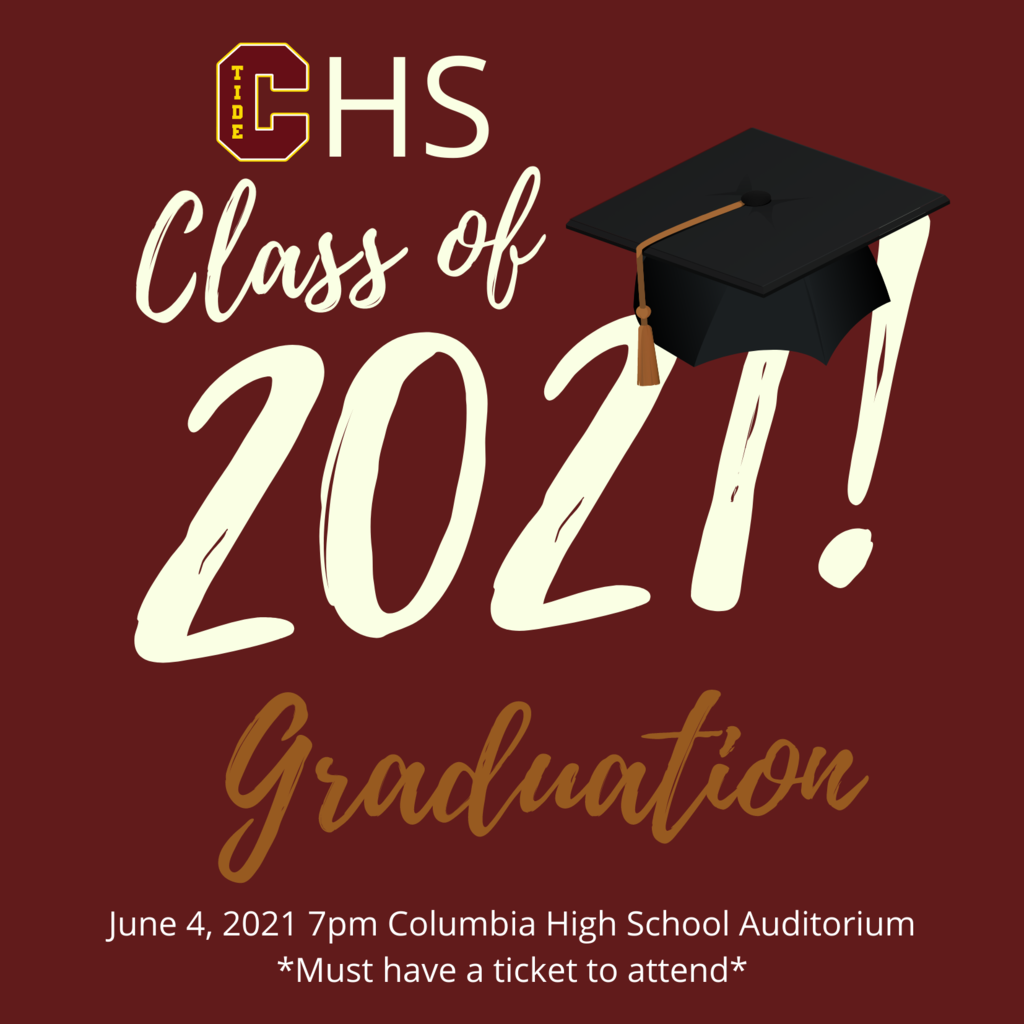 The Baccalaureate Service organized by the class of 2021 and Pastor Grubbs will be held tomorrow, Wednesday 5/26, at 7PM at Columbia United Methodist Church. Graduates, families, and those that wish to support the senior class are invited to attend!
Tonight's outdoor spring concert is still on despite today's rain. The concert will be held in the front courtyard at 6:30 PM. Students will be masked / distanced in accordance with our extracurricular activities plan. We ask that families please sit together and leave space between other households. Please be safe and most importantly enjoy the music!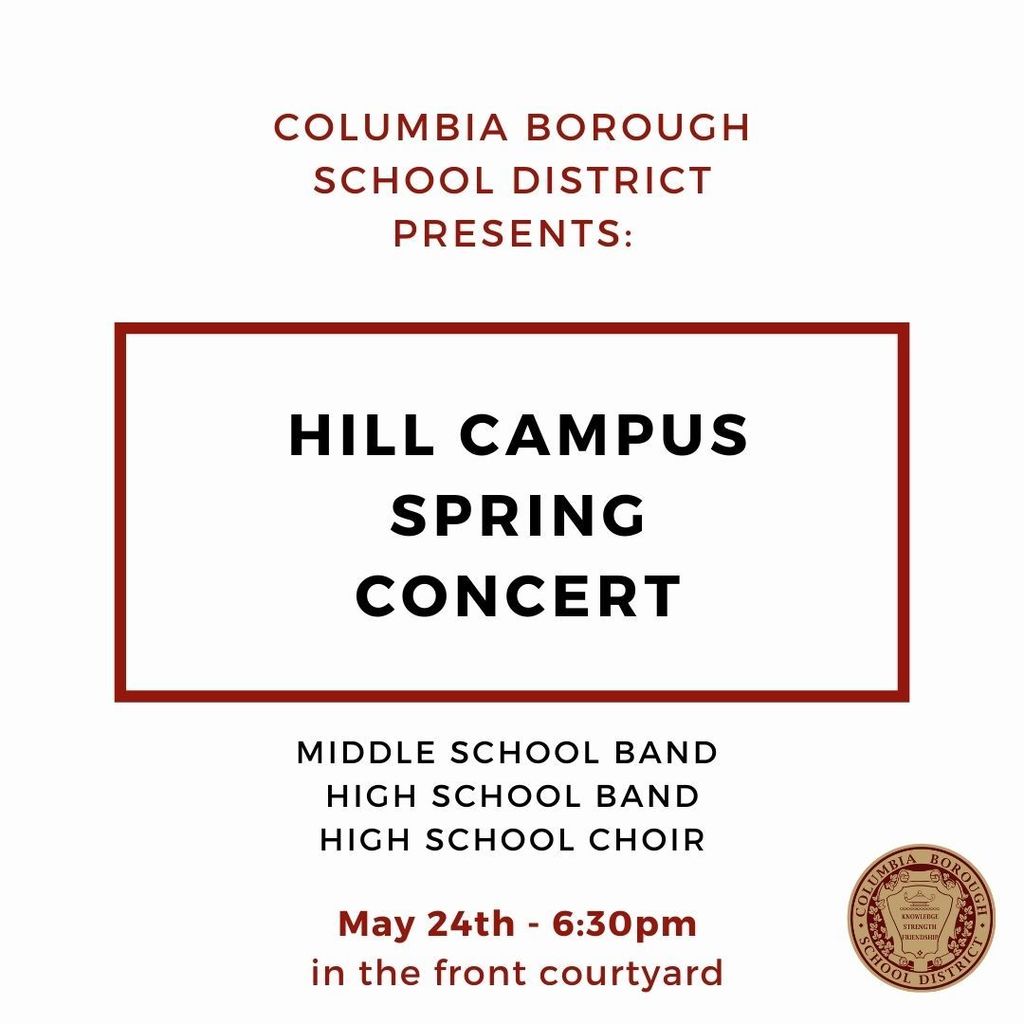 Parents and Caregivers of Seniors, This is a reminder that our senior awards ceremony will be held tomorrow--Wednesday, May 19th in the Auditorium at 6:00 PM. Come help us celebrate the class of 2021!

Attention Parents/Caregivers: In an effort to promote safety in our schools, the Columbia Borough School District will be conducting active intruder drills at all three buildings this week. These drills will allow our students and staff to practice safety procedures while also helping our district to become safer through the knowledge gained and areas for improvement we identify each time a drill is done. While the drill will have set simulations at each building, we will not be utilizing any simulated weapons or weapon sounds for the drill. Once the drill concludes, students and staff will return to the building from our rally (safe) points. As part of this drill, we will ask that parents and guardians not come to the building to pick-up students during this time. Prior to our active intruder drill, staff will discuss school safety with students, including the details of the armed intruder drill. If you have any questions, please contact the building.

Attention CHS Parents/Caregivers: 11th grade physical exams are taking place on Tuesday May 11, 2021 during the school day! Email notifications were sent to those who need a state required physical exam. Remote students are welcome to participate. Please contact your school nurse if you would like to take advantage of this opportunity.
Parents and Caregivers, this is a reminder that we will administer the Keystone exams May 17th – 25th. Packets of information with more details about the tests, their impact on graduation, and the opt-out procedures were mailed home last week to the families of students scheduled to take or retake the exams this spring. If you would like to schedule a meeting with Mr. Kedney or your student's school counselor to opt out of the test please call 717-684-7500 and speak with Mrs. Yohe to set the meeting up. For those students not taking the Keystones—school will be in session as normal on these days.
On behalf of the community's May Day Committee I'd like to share the following information: The 2021 May Day Ceremony will take place tonight (5/1). Due to gathering limits only parents of the participants will be able to attend in person. There will be a live stream available on the May Day YouTube Channel. The stream will go live at 6:50 this evening.
https://www.youtube.com/channel/UCCaZj2Z49mzL_t535qDY9mQ
Columbia MS/HS Campus shift to virtual 4/23/2021. Meal Bundles are available at Taylor from 10:00 a.m.-10:30 a.m.

Good evening. Here are 2 important messages. Message 1: The CBSD Public Health Team met today, and the number of student cases at Columbia Hill Campus has reached six(6). According to the guidance from PDE and PDoH, we have to shift to remote learning for the just the CMS/CHS (Hill Campus) for Friday (April 16th). Students are expected to work from home synchronously with their teachers. Message 2: The Park Elementary and Taylor Campuses are to report to school as usual tomorrow. As a reminder, please keep your child home if he/she is feeling ill and contact your school nurse. Thank you all for your patience as we navigate this difficult time. Have a great evening!
Our Color Guard will host an open house This afternoon (Thursday 4/15) and again on 4/29 from 3:30 to 5:30 in the CHS band Room. No experience is necessary. See Mr. Stauffer for more details!
Parents and Caregivers, this is a quick reminder that we have an early dismissal tomorrow (Wednesday April 14) at 1PM.
This is a reminder that all 10th grade students will take the Practice SAT (PSAT) next Tuesday April 13th in school. The test will begin at 8:00 AM and will be completed around 11:00 AM. Remote and CVA students will be dismissed to return home upon completion and in building students will return to their scheduled classes when finished.

There will be No School on April 2nd or 5th. Enjoy your long weekend!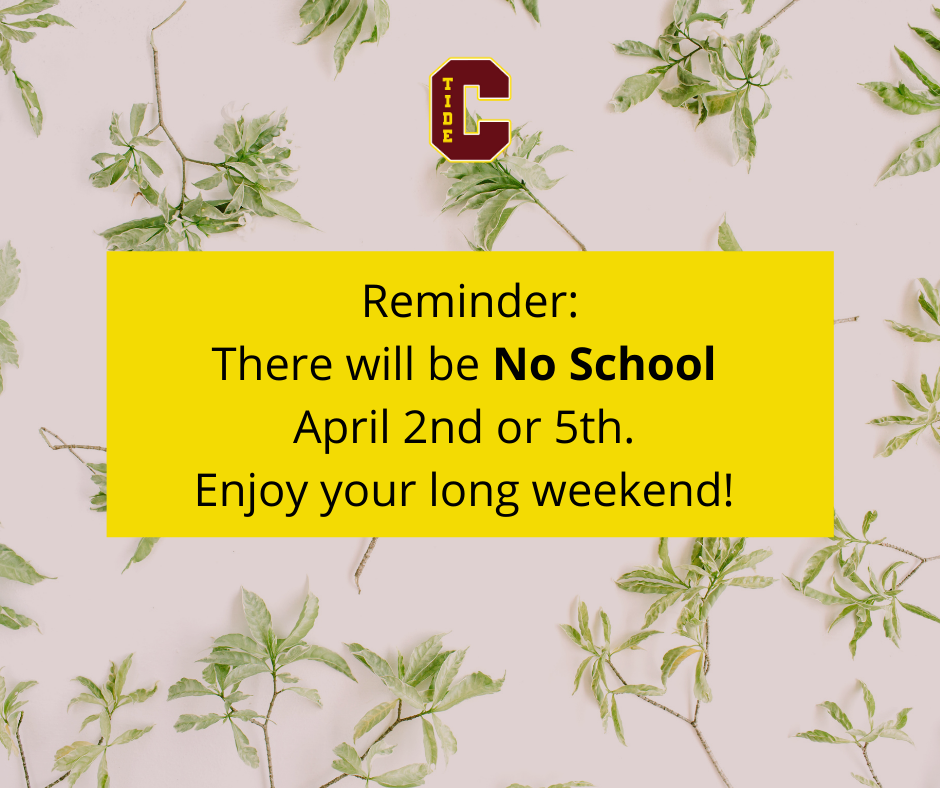 CHS/CMS Theater Department Proudly Presents: Disney's Aladdin Jr Performances are March 25 and 26 at 7pm March 27 at 2pm. Tickets: $8.00 adults; $4.00 students and senior citizens. Seating is limited to 120 people per show and is available on a first-come, first-served basis. Masks and social distancing required.
Attention CHS parents and caregivers. Next Monday (3/22) high school students will be back in the building 5 days a week! We have been hard at work preparing for all students to come back and wanted to share some information with you. Please take a few minutes to watch the short video and let us know if you have any questions. Thank you!
https://youtu.be/96280KzOjqE