COLUMBIA BOROUGH SCHOOL DISTRICT EMPLOYMENT OPPORTUNITIES
CBSD IS ACCEPTING APPLICATIONS FOR THE FOLLOWING POSITIONS
Columbia Borough School District has contracted with STS, Inc. for various positions in the District. Below are the positions that STS has available.
If you are interested in seeking one of the positions listed, you may contact Sharah Burton at 267-993-0125 or email her at s.burton@thesubservice.com to obtain the necessary information to be considered for a position.

STS is looking for caring individuals who have experience in a school setting, are willing to learn, are patient, and possess a positive attitude. Eligible candidates must have the necessary documentation/clearances to work in a school district.
OPEN POSITIONS FOR CURRENT SCHOOL YEAR
Special Education Paraprofessionals and Personal Care Assistants at all levels for the following programs:

Autistic Support

Emotional Support

Life Skills Support

Learning Support

Substitute (as-needed) Paraprofessionals/PCAs

Food Service Staff

Substitute Teachers and Guest Teachers


Interested candidates can apply online through STS here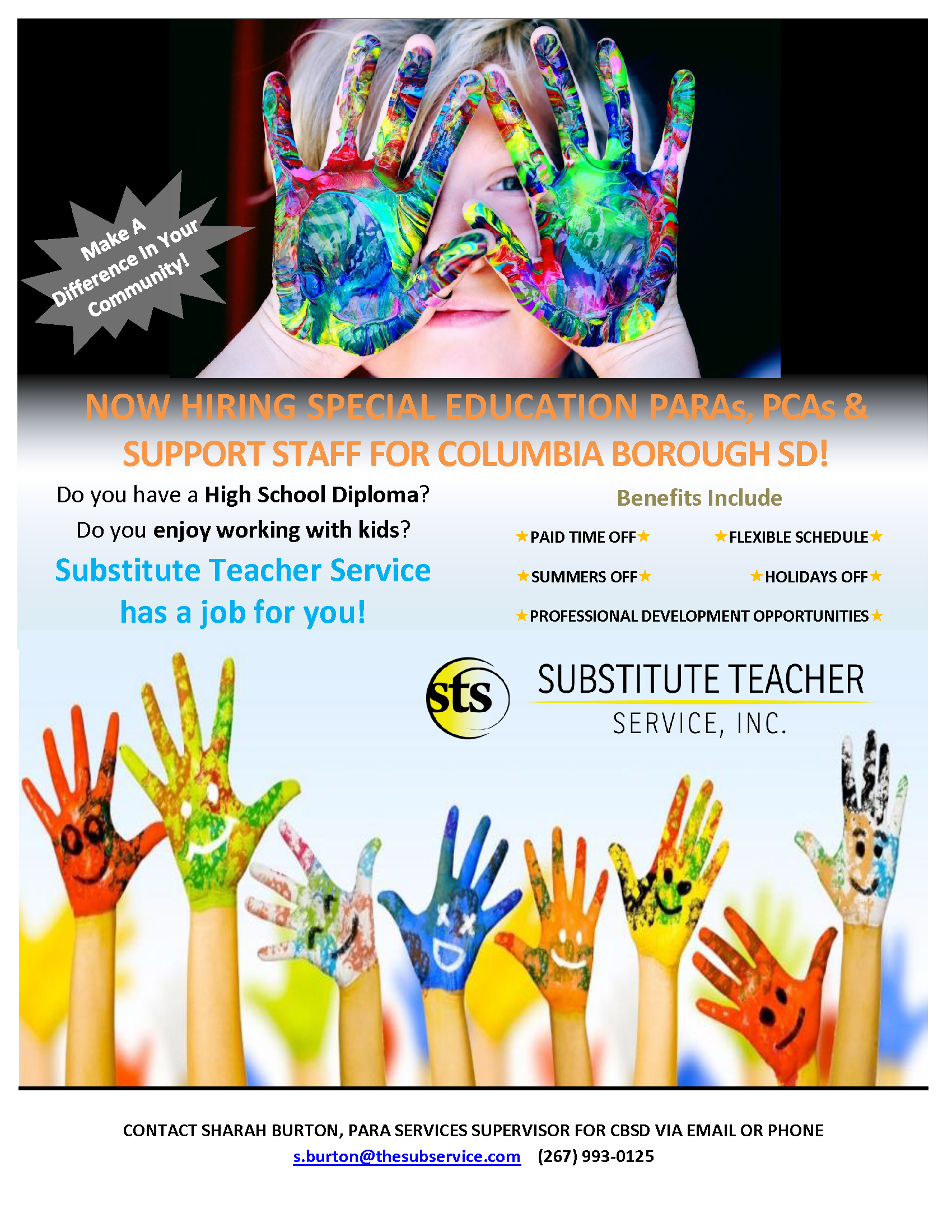 The Columbia Borough School District is an equal opportunity educational institution and will not discriminate based on race, color, national origin, gender, and/or disability in any of its activities, programs, employment policies, or practices as required by Title VI of the Civil Rights Act of 1974, Title IX of the Educational Amendments of 1972, Section 504 of the Rehabilitation Act of 1973, or the American Disabilities Act of 1990. Please direct equal opportunity inquiries to Ms. Donna Prokay, Director of Human Resources, Columbia Borough School District, 200 N. 5th Street, Columbia, PA 17512, or call (717) 684-2283.