Fifty-two Columbia Middle School students kicked off the summer with a week of STEM learning June 17 – 21 by participating in Creator Camp held at the Hill Campus to explore activities in the fields of science, technology, engineering, and mathematics, or STEM. STEM curriculum focuses on engaging students in those four disciplines. Creator Camp, sponsored by Workforce Development Board, consisted of four pods from which students could choose: Snapology, Summer Science, Under the Sea, and Exploration Columbia.
In Snapology, students built and programmed robots to compete in sports themed challenges throughout the week. Students worked in groups, using LEGO Mindstorms EV3 technology, to build a robot and participate in relay races featuring various skills such as kicking a ball into a goal. Students used coding to control the robots' movements to move through the series of obstacles. Snapology of Lancaster is a STEM education program that offers fun programs for a wide variety of ages and interests.
Students who attended Under the Sea researched sharks and dolphins, conducted a science experiment to discover how a shark's liver works to keep it afloat, and created coral reefs. Students also constructed a shark cage to determine how much weight the cage could hold before being destroyed by pressure. Additionally, students made shark soap and cookies.
Through a hands-on approach, students in Exploration Columbia encountered the outdoors and wildlife in their community. Students researched local animals, plant life, and the natural outdoors. Throughout the week, students explored the benefits and consequences of a pipeline and then built their own pipeline using straws, tape, and string. Using Snapleaf, a computer application, students researched local trees through bark etchings and leaf samples. Students also studied bridges and built their own suspension bridge and tested its durability and strength.
In Summer Science, students used everyday household items to create science experiments. Students made lava lamps, elephant toothpaste, slime, and unbreakable bubbles. Additionally, students grew crystals, built a Ferris wheel and a roller coaster, and used varying liquids to create eruptions. Students ended the week by making ice cream.
Additionally, 17 4th grade students joined the middle school students to participate in a mini Creator Camp on June 19 and 20 to learn coding using Lego WeDo 2.0. Students built and coded robots at different speeds to pull varying weights at changing distances. As needed, students adjusted their robots to pull weighted sleds. Students also learned to code their robots to make noises and play music.
Even more excitement occurred on Wednesday when Bio Ben, an exotic animal handler with the North Museum of Nature and Science at Franklin and Marshall College, showed students reptiles and amphibians from the local area including an American toad, a box turtle, and a corn snake. Finally, students ended the week with an educational field trip.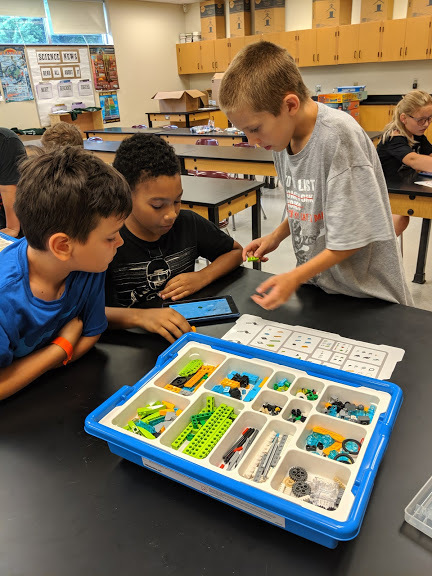 Camryn Adams, left, Anthony Gibson, middle, and Ben Trauger, right, learn to code a robot in 4th Grade Coding at Creator Camp.
Mercy Gonzalez holds a corn snake during a reptile and amphibian show by North Museum of Nature and Science.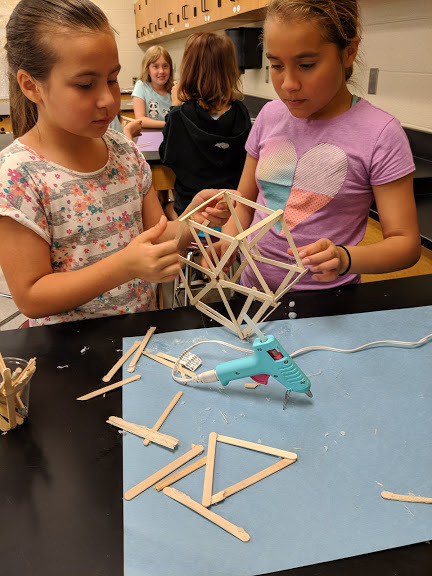 Sailor Seidel, left, and Lanae Seidel build a Ferris wheel using popsicle sticks in Summer Science at Creator Camp.
Zaden Thomas builds a suspension bridge using marshmallows and toothpicks in Exploration Columbia at Creator Camp.
Mrs. Kaufmann helps Sincere Woodard make a coral reef in Under the Sea at Creator Camp.