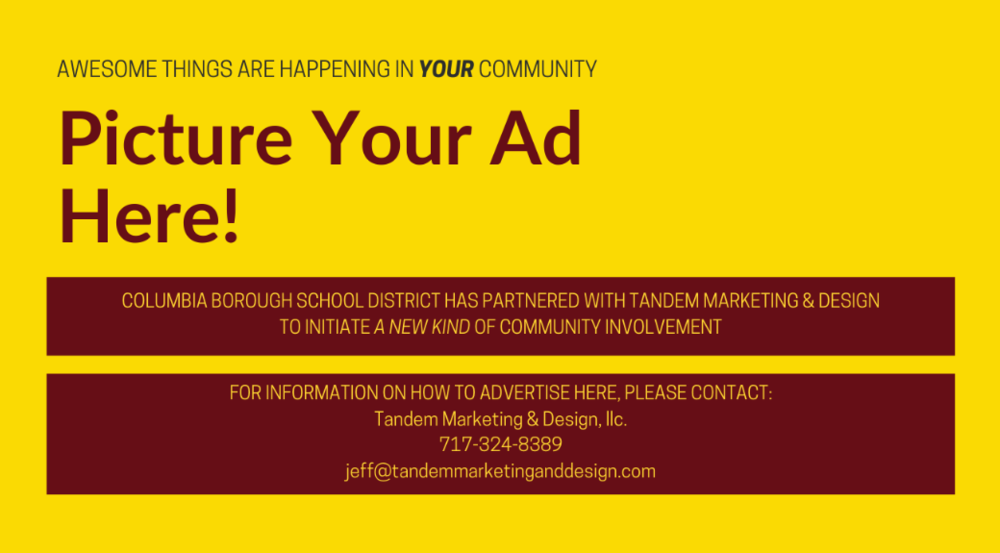 Sponsorship Opportunities
Columbia Borough School District
Friday, September 27, 2019
Join the Movement: Columbia Borough School District has Initiated a New Kind of Community Involvement
Creating Opportunities through Sponsorship
Columbia Borough School District has initiated a new type of community involvement. We began to re-shape the views of the community and the district in a positive, forward-thinking manner. We started by adopting a brand new look to our website which allows us to reach the entire community in a simple and supporting way. We are now hosting all (appropriate) community events on our District site, CHS site, Taylor Middle, Hill Middle, Park, and Community pages. We anticipate an enormous amount of users visiting the Borough Community calendar, now hosted by CBSD, and all websites and their associated Facebook and Twitter accounts for both informational and entertaining news, events, live feeds and in some instances push notifications. In return, we are reaching out to business owners within the surrounding areas and asking for support. We have partnered with a local marketing business, Tandem Marketing & Design, located in Hallam to head the sponsorship spots we have available.
As part of the initiative, we plan to use these sponsorship dollars to offer the students in the district "Opportunity". Opportunity to experience new things, fun adventures, educational trips, reward programs geared toward "less fortunate" students and so on. Your dollars will also go toward helping to improve STEAM (Science, Technology, Engineering, Arts & Mathematics) education. The costs associated with advertising will directly benefit all students within Columbia Borough School District. These funds will allow us to do non-typical activities and begin teaching our students "outside the box opportunities", with the hopes and dreams of creating valuable, forward-thinking members of the community for years to come.
Please visit https://tandemmarketinganddesign.com/cbsd/ for complete details outlining the programs and spots available. We'd like to thank you in advance for your kindness and support of all the students inside our beloved district.
If you'd like to validate the partnership between Tandem Marketing and CBSD, please contact Mr. Tom Strickler, Superintendent, directly at 717-681-2616. To get started simply Click Here. To set up a no-cost appointment to advertise with us, please contact:
Jeff & Stephanie Bausman
717-324-8389
jeff@tandemmarktinganddesign.com and stephanie@tandemmarketinganddesign.com
"Partnering with you for a better tomorrow, One Student at a Time!"
Visit https://tandemmarketinganddesign.com/cbsd/ for complete details.